It includes olives which have good quality of Gemlik from Bursa. Olives and olives paste include whole slew of herbal protein, essential fatty acids, A, C, E vitamins and calcium, also they include phosphorus, sulfur, chlorine and magnesium minerals.
Olives also has aromatic subtances called Oleuropein which is antimicrobial, antiviral and antifundal. Therefore ıt's a healthy product.

Olive Paste Canapes Recipe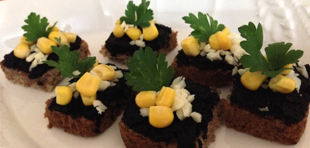 1 tube Super Kartal Olive Paste
50 gr pesto sauce
50 gr sweetcorn
Grated cheese and slices of bread
Firstly mix Super Kartal olive paste with the pesto sauce. Then put this mixture on the slices of bread. Lastly garnish them with sweetcorn and cheese.